CLICS 2016
---
Chances
---
and
---
Challenges
Agenda 2016
Introduction
Analyses
Plans
Introduction
Colexification
Polysemy:

If a word has two or more meanings which are historically related.

Homophony:

If two words which do not share a common etymological history have an identical pronunciation.

Colexification (coined by François 2008):

If one word form denotes several meanings.
Introduction
Colexification
Polysemy:

English wood 'forest; wood (material)'

Homophony:

German Arm 'arm' vs. German arm 'poor'

Colexification:

English wood, German Arm/arm, etc.
Introduction
Colexification: Cross-Linguistic Perspective
Key
Concept
Russian
German
...
1.1
world
mir, svet
Welt
...
1.21
earth, land
zemlja

Erde

, Land
...
1.212
ground, soil
počva

Erde

, Boden
...
1.420
tree

derevo

Baum
...
1.430
wood

derevo

Holz
...
Introduction
CLICS
Database of Cross-Linguistic Colexifications (CLICS):
CLICS offers information on colexification in 221 different languages.
301,498 words covering 1,280 different concepts
45,667 cases of colexification, identified with help of a strictly automatic procedure, correspond to 16,239 different links between the 1,280 concepts in CLICS
Sources of CLICS
IDS (Key and Comrie 2007): 178 languages
WOLD (Haspelmath & Tadmor 2009): 33 languages
LOGOS (http://www.logosdictionary.org): 4 languages
Språkbanken (University of Gothenburg): 6 languages
Introduction
CLICS
Introduction
CLICS Cross-Linguistic Perspective
The idea of the database of Cross-Linguistic Colexifications (CLICS) was inspired by the work of Steiner, Stadler, and Cysouw (2011). In their paper, the authors introduce the use of cross-linguistic polysemies or colexifications for the purpose of handling historical semantic similarities between concepts for the purpose of cognate detection. They themselve trace their idea back to Haspelmath's (2003) notion of semantic maps, which are in some sense similar to colexifications, but for the purpose of comparing grammatical functions across languages rather than the meanings of words.
Introduction
CLICS: Network Modeling
Concepts are represented as nodes in our network.
Instances of colexification in the languages of CLICS are represented as links between the nodes (we link the concept 'poor' with the concept 'arm' since German colexifies both concepts).
Edge weights in the network reflect the number of attested instances of a given colexification or the number of languages or language families in which the colexification occured.
Introduction
CLICS: Network Modeling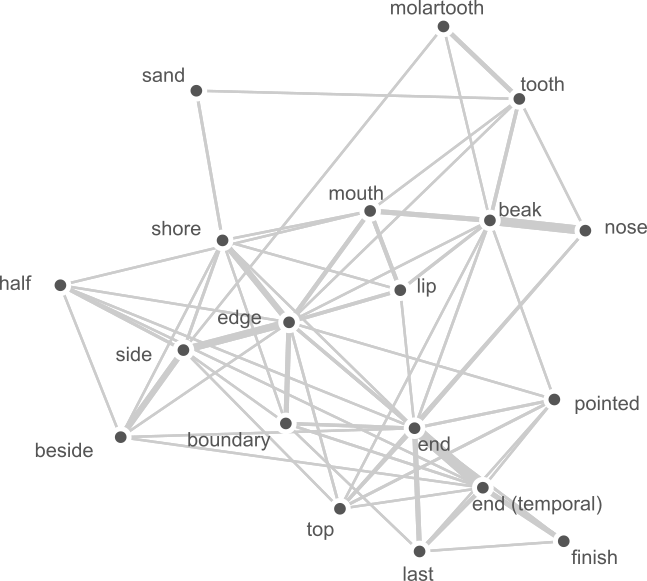 Analysis
Communities
Complete Network in CLICS
Analysis
Communities
Since the resulting network is very, very dense, we try to break it down to smaller interesting pieces by: using algorithms for community identification which break down the networks to small groups in which the number of links within the group is higher than the number of links outside the group (INFOMAP algorithm, Rosvall and Bergstrom 2008), or extracting subgraphs from the network with a certain resolution depth
Community analysis is important for further analyses of the network and usually breaks the network down into the most relevant, cross-cultural units.
Subgraph extraction may be particularly interesting to study areal features.
Analysis
Communities
Complete Network in CLICS
Analysis
Visualization
In Mayer et al. (2014), a new interactive visualization of CLICS was presented, based on JavaScript and the D3 library (Bostock et al. 2011). The visualization was created with an active user in mind who investigates colexification patterns for the purpose of linguistic research on semantic change, but not necessarily restricted to diachronic studies. With the help of Thomas Mayer, who created the visualization, the loose collection of colexifications which we first presented only as a collection of browsable tables (List et al. 2013), turned into an interactive tool that also highlighted the complexity behind the colexification data.
Analysis
Visualization: Examples
Analysis
Visualization: Examples
Analysis
Visualization: Examples
Plans
Concepticon and CLICS
With our work on the Concepticon (List et al. 2015, we have assembled a large collection of metadata. Initially we only wanted to link concept lists proposed as alternatives to Swadesh's original concept lists of 100 (1955) and 200 (1952) words, in order to make sure that we have authoritative concept labels (glosses), similar to the idea of Glottolog providing stable identifiers for language varieties.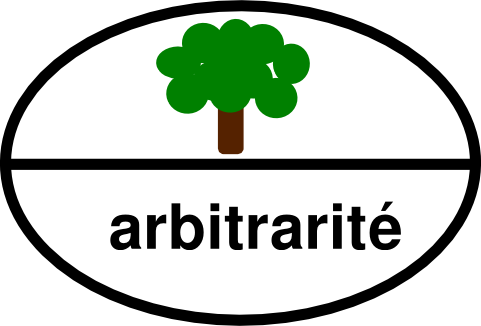 Plans
Concepticon and CLICS
In the meantime, the project has grown to 160 different lists in which 30 000 concept labels are linked to 2500 concept sets. The resource is further enhanced with additional metadata, including links to Wordnet, Babelnet, and EAT. Since the concepts of CLICS are also mapped to the Concepticon, we have now everything we need to start investigating differences and similarities between concept hierarchies and associations on the one hand and colexifications on the other hand.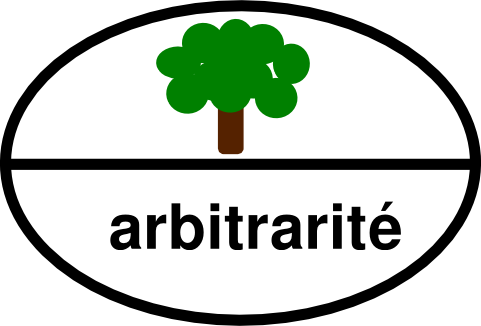 Plans
LingPy and CLICS
LingPy (List et al. 2015) has been rapidly developing, not in the sense that many new algorithms would have been added, but more in the sense that the library has become more and more stable (especially thanks to Robert Forkel, who joined LingPy in 2014). LingPy seems to be the perfect place to offer high-quality code for colexification analyses, including the community detection analyses mentioned before, but also the calculation of various simple and complex statistics, be it node centrality, weighted degrees, or page rank.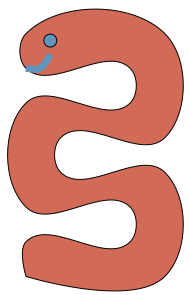 Plans
New Data for CLICS
With currently a bit more than 200 languages, CLICS is quite big, but of course by far not as big as it should be. We hope to expand the data in various ways. First, the Intercontinental Dictionary Series will be relaunched soon and offer some 300 languages, thus giving us the possibility to increase both the accuracy of the data currently underlying CLICS and the size of the sample.
Furthermore, we hope we can profit from our mappings to the Concepticon to further expand the data on a semi-automatic basis.
THE END
... for the moment